Reclams est une revue littéraire en langue occitane.



One year subscription (4 issues) to the literary magazine "Reclams" (appears four times a year). Since 1896, it features prose, poetry, essays and criticism in Occitan language.
Reclams publishes classical authors of the early 20th century, as well as Occitan and Catalan authors, young talents from everywhere, but also:
- contemporary authors such as Eric and Nicolas Rey-Bèthbéder, Eric Gonzalés, Sèrgi Javaloyès, Sèrgi Labatut, Didier Tousis, ...

- great authors, now missing: Robert Lafont, Bernard Manciet, Albert Peyroutet; Mirror of Camelat, Simin Palay, Julien Casaboune, Jean-Victor Lalanne, ...


Reclams is the oldest periodical Occitan magazine in activity. It was created by Escòla Gaston Febus and is an essentially literary magazine that publishes texts in all Occitan dialects. Published in Pau from the beginning, the magazine Reclams is an important tool for the formation of new generations of writers of Occitan expression and the constitution of a modern Occitan writing. From Simin Palay to Bernard Manciet, she published most of the great Gascon writers of Occitan expression of the twentieth century.


It remains today a great review of literary creation by publishing writers of Occitan expression of the whole contemporary Occitan space.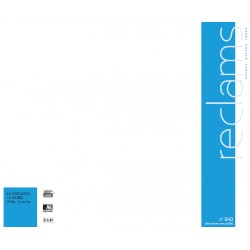 www.reclams.org


Ability to subscribe a special support for the magazine, choose the "Soutien" type just below the price!